Cost of Services
Phone Consultation Free of charge
Dr. Ma understands it can be difficult to make decision for your beloved pet regarding end-of-life care. She offers complimentary phone consultation to provide help and support for the clients in need. She takes phone calls during regular business hour: Monday through Friday, 9am to 6pm. If you leave a message during the regular business hour, she will return your call as soon as possible. If you leave a message after 6pm, your call will be returned the next day.
In-home Consultation Visit $400
The in-home consultation visit covers any individual or combination of our core services: palliative care, hospice care, and chronic pain management.
The 3-hour initial home consultation includes review of medical records, quality of life evaluation, thorough physical exam, dispensing of medications, treatments/procedures if indicated, an individualized care plan, and one week of on-going care through communication via emails, phone calls, or texts.
If the initial consultation takes longer than 3 hours, there will be an overtime fee of $50 per each additional 30 minutes interval.
After fine-tuning the customized care plan for one week, client has an option to continue the active care relationship through on-going communication for $150 per month. Follow-up in-home visit (euthanasia or recheck) happening during the first week or during active on-going care, will have a reduced house call fee of $250.
Follow up visit after the first week, without on-going active care relationship, will be $325.
Medications and supplies fees are priced separately.
An additional $75 to evening, weekend, and holiday appointment.
Palliative and hospice care are limited to dogs and cats only.
In-home Euthanasia Visit $325
This includes an in-home visit, sedation, euthanasia procedure, a personalized clay paw print, grief and pet loss information and notification to your family veterinarian of your pet's passing. It does not include cremation - see below for aftercare options.
Three-hour appointment time is assigned to each euthanasia visit. Although you may not need that much time, we want you to know there is no rush at any point and you can take your time to say goodbye to your beloved. We can also discuss any concern you may have prior to giving any injection to your pet.
If the euthanasia appointment takes longer than 3 hours, there will be an overtime fee of $50 per each additional 30 minutes interval.
Additional clay paw print ($25 each) can be requested ahead of time.
An additional $75 for evening, weekend, and holiday appointment.
In-home euthanasia is for dogs, cats, and small mammals (e.g. rabbits, ferrets, chinchillas, etc). No birds, fish, reptiles or amphibians.
Deceased Pet Pickup $150
If natural death happens before the euthanasia appointment, we can still come to your house to make a personalized clay paw print, provide you the grief and pet loss information, and pick up the body for cremation. We will also notify your family veterinarian of your pet's passing.
An additional $75 for evening, weekend, and holiday appointment.
Aftercare Options
We entrust Animal Memorial Service (AMS) in taking care of our patients' bodies after the transition. All pets are electronically identified and bar coded to ensure pet tracking accuracy. All pets are treated with reverent care and handled individually, gently and always with dignified respect.
Individual Cremation
Your pet is cremated individually and the ashes is returned to you in a standard maple wood urn with a laser engraved name plate. You can choose from seven complimentary urns (Note: the pictures on Compassion Pet Hospice website depict the colors more accurately.)
You can order a digital paw print of your pet. Other special urns and memorial items are also available. You can see these options here.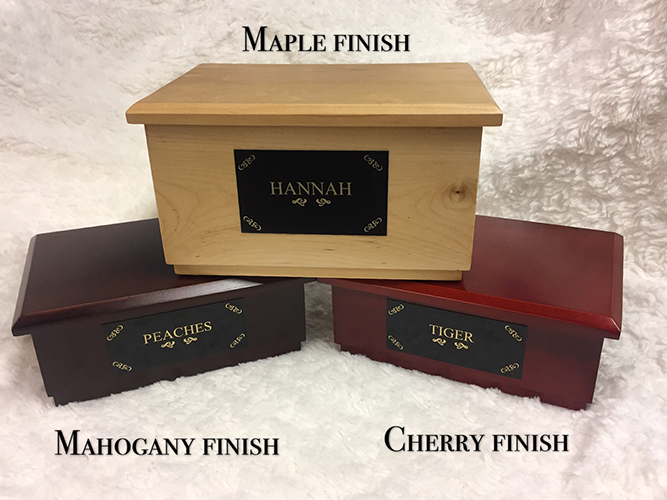 Your pet's cremains may be picked up at the AMS crematorium in Gilroy, at your local veterinary clinic (if they already work with AMS), or shipped directly to you (USPS with signature and tracking number for $20).
Under 3 lbs $150
3-24 lbs $225
25-74 lbs $275
75-99 lbs $325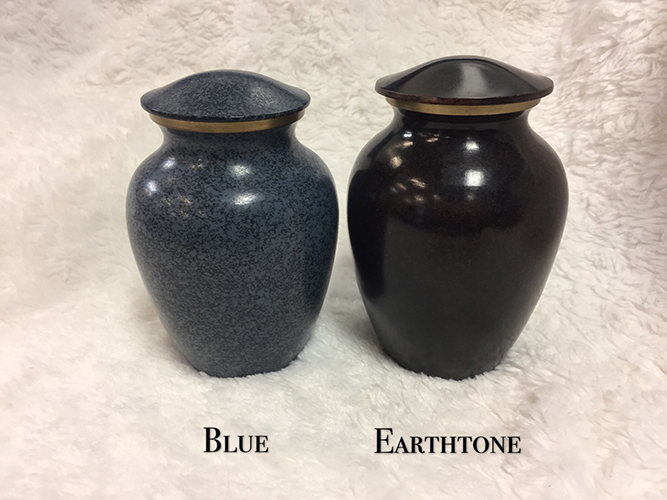 Over 100 lbs, please call for the pricing as advanced arrangement would be needed.
Witness cremation is available. If you have any specific need regarding aftercare options, please contact Dr. Ma directly to discuss further before making the appointment.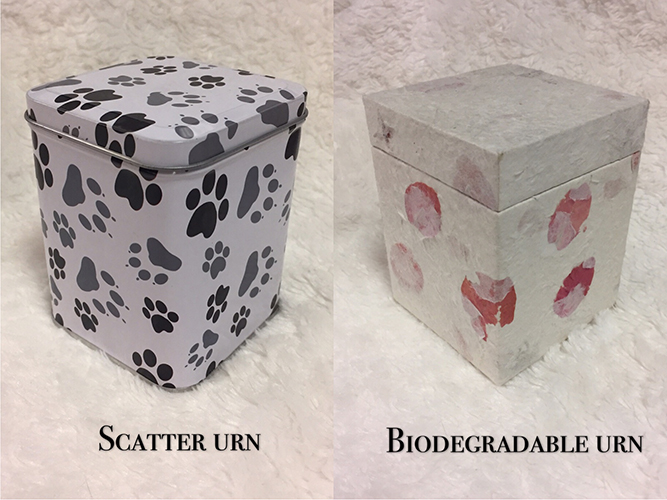 Communal Cremation
In a communal cremation, your pet will be cremated with other beloved pets. Their ashes will be scattered in memoriam over the beautiful Salinas Valley.
Under 35 lbs $100
36-74 lbs $130
75-99 lbs $160
Over 100 lbs, please call for the pricing as advanced arrangement would be needed.
Private Burial
For private burial in pet memorial park, you can make arrangement ahead of time with the pet cemetery directly. Both Bubbling Well in Napa and Pet's Rest in Colma provide this professional service.
For home burial, you should check your local and county regulations. If animal burial is allowed, an average-sized pet should be buried at least 3 feet deep underground. This depth is important not only to prevent your pet from being disturbed by wildlife, but also to prevent the wildlife from ingesting a pet that has euthanasia solution within them. It is the responsibility of the pet owner, as well as the veterinarian, to prevent injury to wildlife. Because the burial depth is deep, you also need to be cautious of water and power lines.
Additional Information
Normal Business Hours
Monday through Friday 9:00am-6:00pm. Dr. Ma would only see 1-2 appointments a day, so that we would never feel rush during the last precious moments with your pets. You can use our appointment page to schedule an appointment.
Evening, weekend, and holiday appointments are occassionally available. A $75 after-hour fee applies.
Service Areas
Castro Valley, Oakland, Hayward, San Leandro, San Lorenzo, Union City, Alameda, Emeryville, Berkeley, Orinda, Moraga, Dublin, Pleasanton
An additional non-negotiable $50 travel fee applies to the following extended areas:
Fremont, Newark, San Mateo, Foster City, Belmont, Milpitas, Livermore, Walnut Creek, Alamo, Pleasant Hill, Concord, El Cerrito, Richmond, Danville, San Ramon, Lafayette, Albany
Payment Options
Payment is expected at the time of service. We accept cash, personal checks, PayPal, Mastercard, Visa, Discover and American Express at the appointment. Cash and checks are preferred.
We do not accept CareCredit, but we accept Scratchpay.
Online Prepaid Option
Our clients can use our online payment system to prepay for requested services.